Cell Phone Detective
Most importantly is the ability to retrieve any type of deleted files like text massages, phone numbers, voice conversations, deleted photos, and videos. All social media deleted communications like facebook, instagram, Whatsapp, Twitter and many others.
We Service ANY kind of Cell Phone

Windows Phone Cloud
Most smartphone users backup their contacts, messages, applications, settings, files etc. on the cloud. The Windows Phone platform offers its own cloud storage which Sherlock Data Recovery can extract.
Web Browsers
Sherlock Data Recovery offers support with all major Web browsers on various operating systems.
SQLite Viewer
An SQLite Viewer allows for the exploration of database files with the following extensions: .sqlite, .sqlite3, .sqlitedb, .db, .db3. Sherlock Data Recovery has the means of gaining access to all data stored in such databases regardless of whether they were deleted or not.
Spyware
Sherlock Data Recovery can detect spyware covertly installed on most devices. By processing their logs and configuration files, such spyware can be effectively combated.
Skype & Messengers
Sherlock Data Recovery can offer support for a plethora of messaging apps such as Skype, Facebook, WhatsApp, Viber and more.
Screen Lock Disabler
With locked devices being a common recovery issue, Sherlock Data Recovery is at the forefront in digital recovery methods to access even the toughest of cases.
Plist Viewer
Plist files are Property List XML Files which contain a host of relevant recovery information specific to Apple devices. Browser history, settings, cookies, etc. can all be extracted from .plist files.
Phonebook
The Phonebook is essentially an address book housing a user's contacts with all the relevant data such as name, websites, phone numbers, addresses, emails, etc. Depending on the device, it is possible for recovery services to retrieve relevant information stored in the phonebook.
Oxygen Forensic® Maps
Oxygen Forensic® Maps acquires GPS coordinates from all possible sources such as phones, tablets, computers, cloud storage, media cards, and imported images. The data can then be reviewed both online and off by the experts during the recovery process.
Navigation
Sherlock Data Recovery can access popular Navigation software to highlight searches, routes, and points of interest called on the device.
Locked devices acquisition
Sherlock Data Recovery offers the means to recover most locked devices. This system can be used on many of the latest models and operating systems.
Links and Stats
Links and Stats offer a convenient method of exploring social connections between users by analyzing various activity such as phone calls, text and email messages, and application use. This will allow for thorough investigation of any user's social connections.
iTunes Backup
iTunes backup found is often found on tampered computers due to the popularity of Apple devices. Sherlock Data Recovery can extract such data from the iTunes backup files.
Global Search
Every section of a device can be explored using global search. This includes, messages, application use, IPS addresses, GPS coordinates, etc.
File Browser
A File Browser is a powerful resource to access and analyze everything from photos and documents to the code used to view and store their properties.
Event log
The Event Log contains user's information pertaining to a user's phone calls. Recovering deleted call information is available for certain devices.
Dictionaries
All the words entered in a device message, note or calendar can be found in the dictionaries. It is important to note, these are not traditional dictionaries. Instead, they have the unique words typed in by the user on the device.
Device Information
Device information displays complete technical information about the device such as manufacturer, model, platform, serial number, phone number and any other specific data.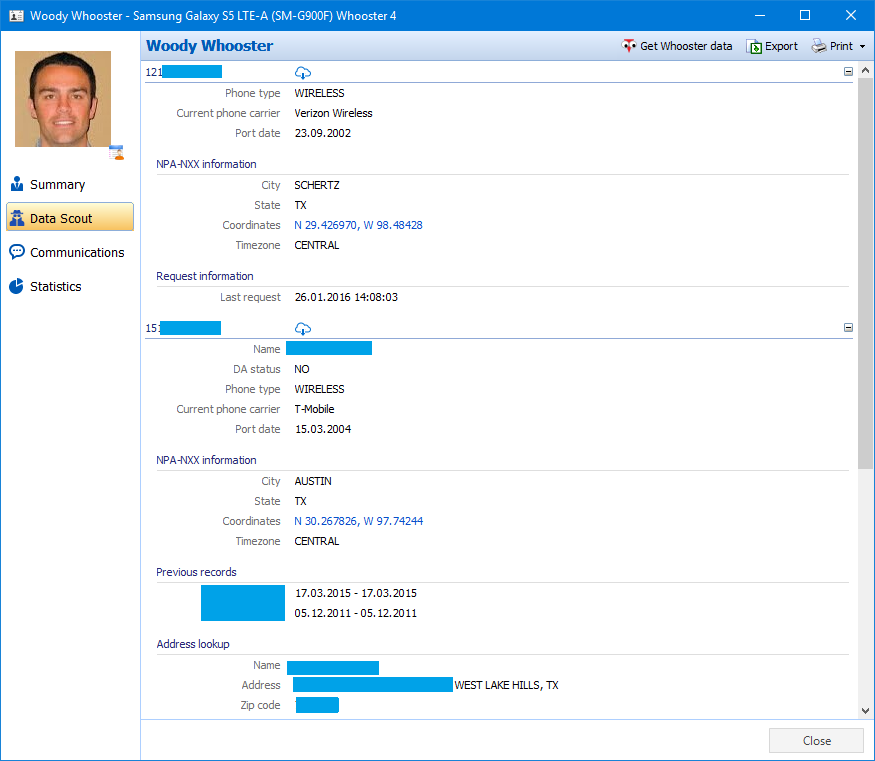 Data Scout
Data Scout recovers subscriber information from an extracted phone number. It interacts with other services to gather data from collected phone numbers.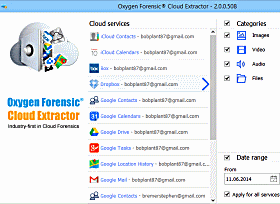 Cloud Data Extraction
Sherlock Data Recovery can recover data from several cloud storages such as OneDrive, Google Drive and Dropbox as well as from various social media platforms such as Twitter and Instagram.
Call Data Records
Sherlock Data Recovery can analyze the various CDR files with all the format and layouts provided by mobile service providers.
Calendar & Tasks
Calendar and Tasks display a user's notes, tasks, and calendar entries. The various features and sections will depend on the model of device.
Backups Import
Sherlock Data Recovery can import and extract data from various backup and image files created by the device's sync software.
Applications
Sherlock Data Recovery can recover and decrypt all vital application data from devices running iOS, Android OS, BlackBerry 10, Windows Phone 8 Operating Systems.